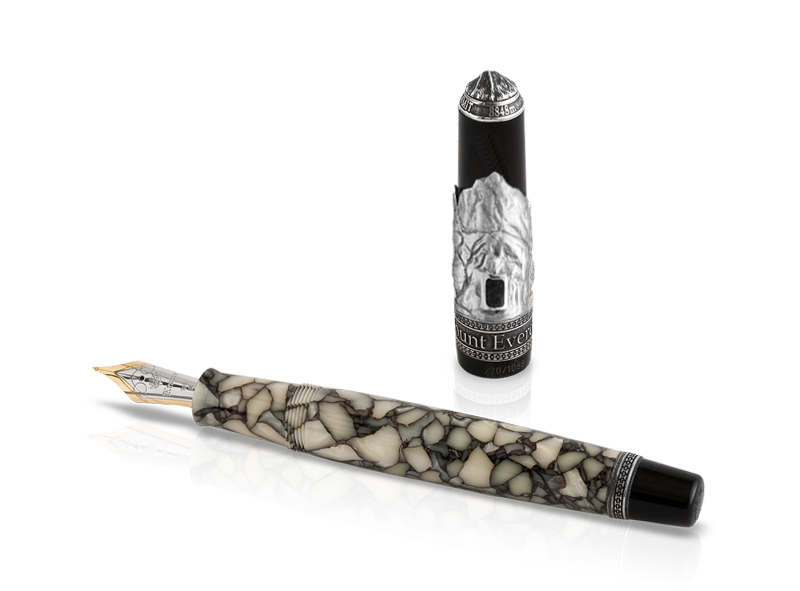 Mount Everest
Reaching the summit of Mount Everest may well represent the ultimate physical challenge. Endurance and unwavering determination both contribute to success. The Krone Limited Edition Sir Edmund Hillary Mount Everest Pen honors all of those who have faced the immense challenges of the world's highest mountain. Since 1953, when Sir Edmund Hillary became the first to reach the summit, only a few people have achieved this elusive goal. However, 160 individuals have perished in the quest.
Not only does the summit area of Mount Everest consist of ice and snow, but also exposed rock. Specimens of this rock were collected by three of the world's most accomplished mountaineers on their successful expeditions to the summit. Stones were then cut with gem-like precision by Krone LLC and carefully mounted in the cap of every Limited Edition Sir Edmund Hillary Mount Everest Pen. Each Sir Edmund Hillary Mount Everest Pen contains:
LISTEN TO AUDIO
SPECIFICATIONS
A two-toned, iridium-tipped, 18 kt.-gold nib, onto which the Krone name is proudly guilloched. Krone nibs are offered in three widths (F,M,B) customized to the owner's writing style.
The ergonomically designed metacrilate barrel, providing the ultimate in comfort, balance, and fluidity.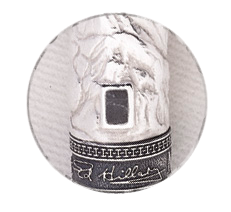 At the very top of the cap, in sterling silver, is a topographical relief of the Mount Everest summit area. On the bezel surrounding this relief is the word 'Sagarmatha,' which in Nepalese means 'Goddess of the Sky.' The mountain's altitude–8,848 meters–is also noted on the bezel. A sterling silver, three- dimensional relief of this majestic mountain is overlaid around the cap. Inset into this overlay, is a piece of authentic rock from the summit area of Mount Everest.
Each pen is accompanied with a uniquely commissioned, highly detailed Mount Everest sculpture. The colors of the mountain–purples, blues and soft grays– evoke the summit of Mount Everest when photographed at dawn.
The Sir Edmund Hillary Mount Everest Pen is a limited edition of 1,088 worldwide. Each pen is sequentially numbered on the barrel. Piston Fill. F, M and B.