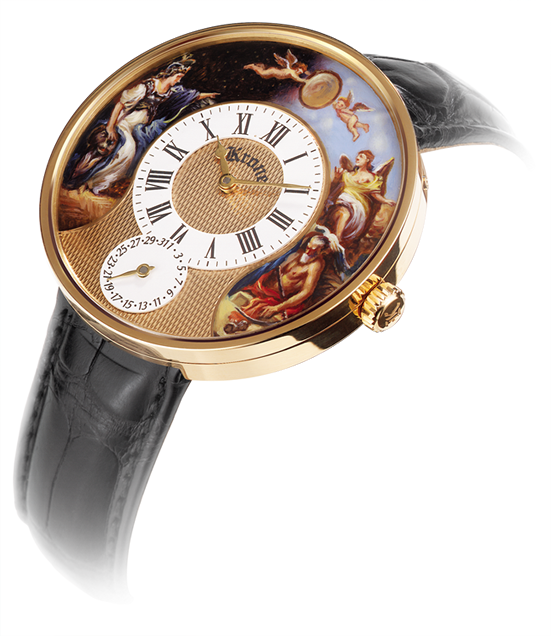 Balance Of Time
We have seen that there are many ways to think about time and that ultimately the availability of a good watch has a practical value. But it can also have aesthetic value and can make a significant design statement. So it is with the Balance of Time watch by Krone. It features the St.Petersburg allegory, a painting commissioned by Cardinal Gaultieri during the reign of King Louis the XIV of France. He later presented this painting to the king.
The central figure of the painting is the Greek goddess Minerva who symbolizes wisdom. She is seated on a recumbent lion on the left side of the painting. She is showing a medallion of King Louis XIV to the winged figure of history, whose book is supported by the back of time. So time once again is represented as the phenomenon around which all life revolves.
Minerva is an important figure in Greek mythology and was in fact the special protector of the city of Athens, the focus of Greek culture. She was originally the goddess of war, hence the presence of her armor and spear. But she is also seen as a civilizing influence because she fought for just causes. Because of her association with wisdom, she also become the patron of many institutions of learning and the arts. The symbols of learning are represented by books and an owl.
The Balance of Time watch by Krone not only represents the finest in mechanical workmanship and is an outstanding timepiece, but is a grat piece of art that represents time and its relationship to the timeless value represented by Greek culture.
SPECIFICATIONS
Item Number KW3030 SA BOT
Case Yellow Gold Case
Weight gr. 65
Edition Size 28 pcs.
Case diameter mm. 44
Jewels 25
Case height mm. 10,6
Basic Caliber KA 8631
Water resistance Water protected. Protected against water at no pressure
Special Features Hand painted guilloche dial Date indicator. Watch has a streamlined strap attachment without lugs. Hand painted rotor